Glass Lab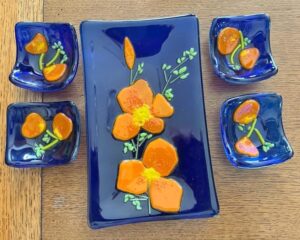 If you already know the basics to create Fused Glass, then Le Brane Design's mid-level weekly Fused Glass Lab format is for you! His 3-hour Glass Labs are designed for students 18 yr. and older who can create fused glass projects independently. Sign up for just 1 Glass Lab, or a whole series, depending on time, budget, and location. Make your own projects with Larry's technical and design help. Create colorful home and garden décor, jewelry, add to your own art media and/or design unique gifts. Finished fired projects are available within 7-10 business days. Larry can ship your finished glass to your home or office if you live out-of-area.
The $65/3-hr. fee includes access to tools, slumping molds, equipment, multiple kiln firings and decorative glass. Students supply their own C.O.E. 96 base glass (Coefficient of Expansion) for Glass Lab projects. Students MUST bring wrap-around safety goggles and wear closed shoes to ALL fused glass classes. Class size is 2-4 students for best learning and safety. Sign up SOON to save your space in Larry's quaint coastal glass studio in Central Coast, CA's Los Osos-Baywood Park.
Contact us HERE to get Larry's current Fused Glass Lab dates, details and Registration Form or if you're interested in scheduling your own private Group Glass Gatherings!
Sign Up for a Fun Unforgettable Experience! Send us your request today!
Larry Le Brane's been a fine art instructor at CA's community colleges for over 40 years, teaching diverse classes with effective techniques.