Beginning Fused Glass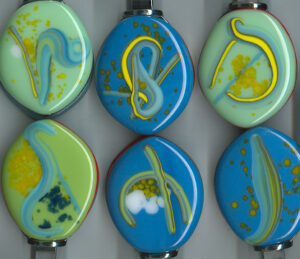 Le Brane Design offers Beginning Fused Glass Classes working with mixed-media and fused glass under the direction of artist Larry Le Brane in Los Osos-Baywood Park in San Luis Obispo County, CA. Larry's glass classes have been popular with new art students and professional artists for almost 20 years. NO previous art skills are needed! Make colorful home & garden décor, custom gifts, dishware, jewelry, or add to your own art media.
This popular 3-week class teaches basic skills to create fused-glass artwork. Occasionally, Larry offers weekend workshops, too. Students 18 yr. and older will design, cut and prepare items for glass fusing and slumping. Class size is 4-6 students for best learning and safety.
The fee is $150 per attendee and includes materials, equipment and tools for at least 3-5 projects. Students MUST bring wrap-around safety goggles and wear closed shoes to ALL fused glass classes.
Contact us HERE to get Larry's current Workshop Flyer with Beginning Fused Glass dates, details and Registration Form or if you're interested in scheduling your own private Group Glass Gatherings! Fun for couples, families, friends or visiting guests. Same rate, same fun!
Sign Up for a Fun Unforgettable Experience! Send us your request today!
Larry Le Brane's been a fine art instructor at CA's community colleges for over 40 years, teaching diverse classes with effective techniques.